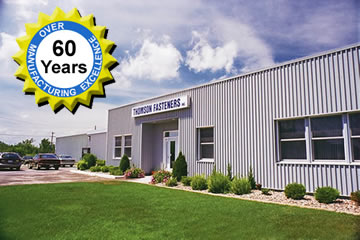 Thomson Fasteners was founded in 1949.
It now occupies the 62000 square foot manufacturing facility which has evolved on the original site in Gananoque Ontario, Canada.
The corporate name was chosen to reflect our versatility in manufacturing and distribution of a large range of fasteners, supplied globally
Thomson Fasteners Inc. is dedicated to excellence and integrity throughout all our operations.
The company pledges to serve industry with reliable delivery of high quality products at a reasonable price.
We make our client's concerns our own and strive to exceed expectations.
Thomson Fasteners Inc. is also dedicated to continuous skills development of employees through educational and training programs.
We guard our reputation as good corporate citizens, mindful of the needs of our stakeholders which includes our clients, employees, suppliers, shareholders, industry, and the community where we live and work.